Adirondacks, Surrounded in Color
Surround yourself in blazing autumn colors while discovering the majestic Adirondacks. Warm days, crisp nights, cascading waterfalls, pristine lakes, and breathtaking vistas highlight this Fall Foliage getaway to Lake George and the Adirondack Mountains.
ARE THERE DATES YOU NEED TO FILL?
Contact us for your customized group tour proposal.
917-575-6600 | nick@twintravelconcepts.com
Day 1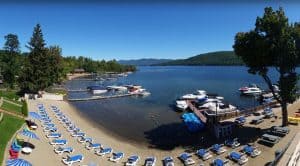 Arrive this afternoon to the village of Lake George, nestled on the lake this is also known as the Queen of American lakes. In 1791 Thomas Jefferson wrote – "Lake George is without comparison, the most beautiful water I ever saw…"  Georgia O'Keefe, Rachel Ray and Jame's Fenimore Cooper are just some of the famous residents you'll be learning about today.
The Surfside Hotel is a resort on the lake and in the village. You will be staying in the recently fully renovated wing and can stroll along the beach, or stroll in town to shop and people-watch!
Dinner tonight is at Log Jam – Adirondack style dining!
Day 2
After breakfast at the hotel your day of Lake George touring begins.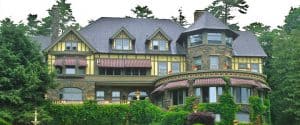 Millionaire's Row – Lake George attracted the era's rich and famous by the late 19th and early 20th century. Members of the Roosevelt, van Rensselaer, Vanderbilt, Rockefeller and Whitney families visited its shores. And Millionaire's Row is the nickname of a stretch of the west side of the lake where they built mansions for use during the summer months. Such notables as Spencer Trask and Robert Pitcairn built palatial summer homes here. Although sometimes called "cottages" by their owners, these grand houses typically had dozens of bedrooms and more than 20,000 square feet of floor space.
Cooper's Cave – This is the site of the fictional hiding place made famous in James Fenimore Cooper's novel "The Last of the Mohicans." He wrote extensively about this area that he loved so. And what better way to toast him than with ice cream? It is time for a scoop of ice-cream at Cooper Cave Ice Cream!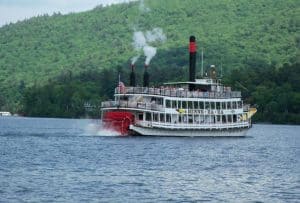 Minnie-Ha-Ha – No trip to Lake George is complete without a sightseeing cruise. For one hour, you'll cruise past the estates and villages that dot the lake on the famous Minnie-Ha-Ha paddle-wheeler. With the colorful mountains in the background you may not even listen to the narration!
First Presbyterian Organ – The large and magnificent pipe organ in the First Presbyterian Church of Glens Falls is actually two instruments, designed and built by two different builders in contrasting styles from different times.  The combined resources comprise one of the 100 largest pipe organs in the world and is the largest organ between New York City and Montréal.
Fort William Henry – In 1755, Fort William Henry was constructed to command the southern end of Lake George.  It was a British outpost to protect the colonies farther to the south and to serve as a launching site against the French, who held the northern end of the lake protected by Fort Carillon.  Its short history and violent end has been retold, although inaccurately, in James Fenimore Cooper's "Last of the Mohicans." Lake George's importance in American history begins here at this living history site.

Prospect Mountain – Located in the foothills of the Adirondacks, Prospect Mountain has a 2030-foot summit with a panoramic view of Lake George and the Adirondack region. Traveling up the highway affords some fantastic vistas, while at the peak of the mountain is a rewarding 100-mile panoramic view of the area from the Adirondack Mountains of New York to the Green Mountains of Vermont.
The Surfside Dinner Theater – Tonight dinner is at The Surfside, with award-winning entertainment and an excellent meal!
Day 3
After breakfast (included), checkout and travel to Warrensburg.
Rachel Ray grew up here and began her career here!  You will stop at Oscar's Adirondack Smokehouse – a shop she refers to often on her show, and where she still shops.  You'll have a tasting and listen to some fun facts about Rachel and this area.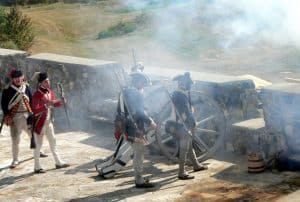 Fort Ticonderoga – Relive the defining moments in America's history when nations fought to control a continent. Located within the shadow of the Adirondack Mountains and overlooking Vermont's picturesque Green Mountains, Fort Ticonderoga guards the historic portage between Lake Champlain and Lake George. The French and their native allies failed to conquer this region during the French & Indian War. And a generation later, the British failed during the Revolutionary War. In the end, Americans controlled Lake Champlain, and therefore controlled the continent.
Ausable Chasm – The Grand Canyon of the Adirondacks. Experience one of the oldest natural attractions in the United States (est. 1870). Immerse yourself in a primeval Adirondack forest as you stroll past Rainbow Falls, Elephant's Head, Column Rock, Hyde's Cave and the eerie quiet of Mystic Gorge. Descend hundreds of feet to walk on natural stone walkways and gaze upon eons of geologic history etched in stone. (For those who do not wish to walk, sitting and watching the gorge is just as delightful!)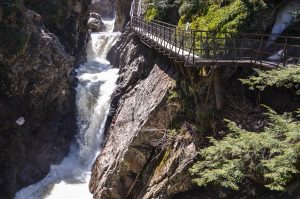 High Falls Gorge – The Adirondacks' most breathtaking 30-minute walk! This 22-acre nature park provides safe trail access for all ages, with four splendid Adirondack waterfalls cascading over rocks into a deep crevice carved a billion years ago.
Hungry Trout – Overlooking Whiteface Mountain, and along the Ausable River, the Hungry Trout is reputed to be the finest dining in the North Country.
Lake Placid – site of two winter Olympics and nestled in the High Peaks is your home for the next two nights.  The Hampton Inn in Lake Placid is right on the Mirror Lake.
Day 4
After breakfast at your hotel, meet your local guide for a full-day of Adirondack Mountain touring!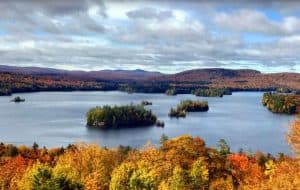 Adirondack Museum – After a stunning drive past pristine lakes and soaring mountains, you arrive at Blue Mountain Lake. With Blue Mountain rising behind it, the Adirondack Museum's vast campus features displays in 22 modern exhibition galleries and historic buildings. There are lush grounds and sweeping views. The exhibitions tell the unique story of the Adirondacks and its people. This is a superb museum.
Raquette Lake – 20 minutes further down the road is Raquette Lake. Raquette Lake boasts 99 miles of shoreline, making it the largest natural lake in the Adirondacks. With 80% of the shoreline owned by the State of New York and constitutionally Forever Wild, using accolades like "pristine" are not an overstatement.
Today you will enjoy a sightseeing cruise and lunch on the SS Durant marveling at this gorgeous lake and the mountains that surround and feed it.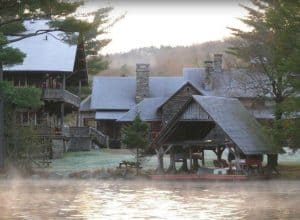 Great Camp Sagamore is an extraordinary, historic icon of American Adirondack style – where celebrities, politicians and world leaders have gathered to dream big, connect with others and allow ideas to take root. And this still happens today.  Sagamore is a National Historic Landmark celebrating the work of architect/developer, William West Durant. It's a wilderness estate that was the Adirondack home of the Vanderbilt family (1901-1954) and staff–a rustic community that was famous for parties, people, celebrities and visiting world leaders.
Back in Lake Placid, tonight dinner is on your own.  There are many wonderful eateries in the bucolic village.
Day 5
After breakfast at your hotel, checkout and meet your local guide.
This morning there is more Lake Placid touring!  Lake Placid has hosted two winter Olympics and is a magnificent year-round destination.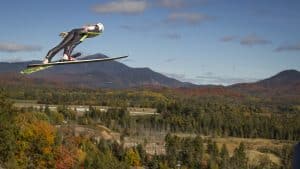 The Olympic Center is your first stop. This is where the dramatic 1980 USA Hockey team's miracle win over Russia played out, and where Eric Hayden set 4 Olympic records and 1 world record.
Olympic Ski Jump.  You've watched them fly and soar, but do you know what it looks like from the top? You will have a new appreciation of just how amazing these athletes are – and the view from the top is equally amazing!
John Brown's Farm – High in New York State's Adirondack Mountains is the home and grave of abolitionist John Brown. Many Americans know the song "John Brown's body lies a-mouldering in the grave," but most do not associate the words with this simple farm at North Elba, New York.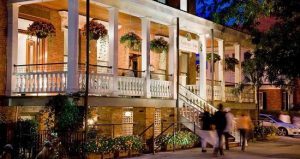 Saratoga Springs is Spa City. Saratoga's springs are among the few naturally carbonated waters in the nation. As more and more people learned of its healing mineral springs, the area quickly grew into a luxury resort city with businesses and accommodations popping up at every corner. High-society from all over the world made a point to visit the famed "Spa City" and experience the springs for themselves.
Your hotel tonight is the Hilton Garden Inn, Saratoga Springs.
The Wishing Well is an elegant, charming place to dine, relax and unwind. Since 1936 they have been delighting travelers so Spa City.
Day 6
After breakfast at your hotel, checkout and meet your locally licensed guide.
"Spa City" is known for its springs, but this morning you will also learn of its famous thoroughbred racetrack and stunning "cottages", summer homes of the wealthy.
And then you are on your way home…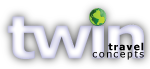 Customized Group Tours
Whatever your reason for traveling – Culture, Art, Gardens, Faith, or discovering new destinations – we create group tours that set each program apart from the ordinary.
Let our experience and passion work for you.
twintravelconcepts.com