FDR Home (Springwood) and Presidential Library, Hudson Valley
"All that is within me cries out to go back to my home on the Hudson River" – FDR.
Overlooking the Hudson River, the home and library make a wonderful day of exploration of our only 3-term president. It is the only place in the United States where a President was born, maintained a lifelong connection, and lies buried.
EXPERIENCE – Nearby is Val Kill, Eleanor Roosevelt's home, the Vanderbilt Mansion National Historic Site, as well as the Culinary Institute of America.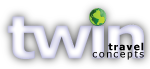 Customized Group Tours
Whatever your reason for traveling – Culture, Art, Gardens, Faith, or discovering new destinations – we create group tours that set each program apart from the ordinary.
Let our experience and passion work for you.
twintravelconcepts.com