Take all the places you love in upstate New York, add in ghosts, oddities and an asylum, and you have a thrilling tour called Haunted Across New York! From Buffalo to the Finger Lakes to the Hudson Valley, this tour excites the senses and imagination. Asylums, Ghosts, Wines and Cruises – what's not to love about this program?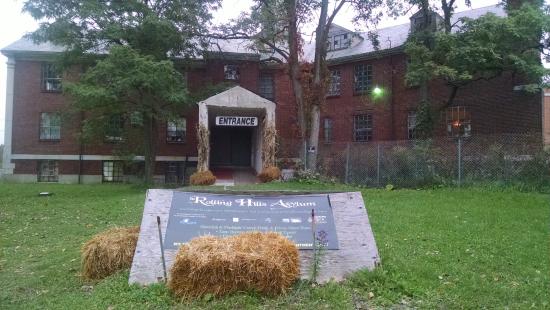 DO YOU HAVE DATES YOU NEED TO FILL?
Contact us for your customized group tour proposal
917-575-6600 | nick@twintravelconcepts.com
---
Haunted Across New York Highlights
Iron Island Museum
Rolling Hills Asylum
Jell-O Museum
Dinosaur BBQ Dinner Cruise on Erie Canal
William Phelps General Store
Palmyra Historical Museum
Miles Wine Cellars
Seneca Lake cruise
Glenora Wine Cellars
Landmark Theater
Otesaga Resort
Dr. Best House and Medical Museum
Staatsburgh State Historic Site
Wing's Castle
Millbrook Vineyard and Winery
Sprout Creek Farm
Miss Fanny's Victorian Party House
Haunted Across New York Itinerary
Day 1
Your first stop today is in the Buffalo area at the Iron Island Museum.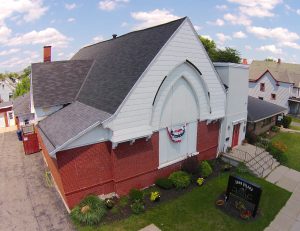 The Iron Island Museum is in a building that was a former church, built in 1883. The church closed in the late 1940s and it sat empty until 1956, when it was purchased and turned into a funeral home.   In August of 2000, it was donated for its museum. This building is loaded with history from the Iron Island neighborhood, City of Buffalo, the railroad, the military and much, much more. Its history is what makes it so haunted. Once you come visit the museum for the spirits, you end up appreciating its amazing history.
The building is haunted by many spirits, some have been able to be identified, such as Edgar Zernicke, whose cremated remains went unclaimed in the basement and two 6-year-old boys who were both waked out of the funeral home in the 1960s. Spirit voices have been recorded along with pictures and video's of the spirits that haunt the building. Many different spirits seem to come and go, but many stay to visit with the guests.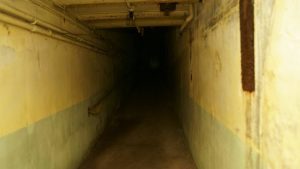 After, visit the Rolling Hills Asylum. The Genesee County Poor House (originally a working farm) soon became a dumping ground for the outcasts of society. Widows and orphans mingled with lunatics and the unclaimed dead were buried on the property.  With over 1,700 documented deaths and hundreds not recorded, it's no wonder Haunted North America rated it as the second most haunted site in the United States. You will tour the asylum and… maybe have a visit.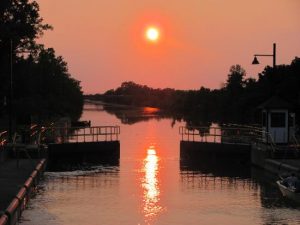 "There's Always Room for Jell-O." The Jell-O Museum is a small but fun stop. Everything Jell-O!!  History, original art, trivia, and a trip down memory lane.
Hilton Garden Inn in Auburn NY is a Finger Lakes staple, and well located in the quaint village.
Dinner tonight is a special dinner cruise on the Erie Canal.  Dinosaur BBQ is a NY State favorite, which began here and they will be providing dinner on this delightful cruise!
Day 2
After breakfast at your hotel, meet your local guide for Finger Lakes touring!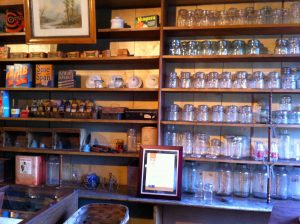 The William Phelps General Store – The museum "where time stands still". Proprietor William Phelps completed renovations to the store by 1875, subsequently left untouched by his son Julius, who locked the doors in 1940, leaving a creepy and intriguing retail time capsule. Nothing has been touched, removed or replaced since 1940.
Next door, the Palmyra Historical Museum offers interesting exhibits on the Erie Canal, Underground Railroad and Palmyra's connection to Joseph Smith's journey, Women's Suffrage and Winston Churchill.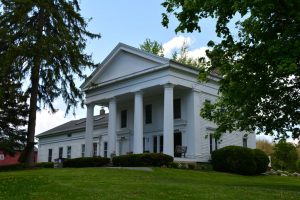 Along Seneca Lake is Miles Wine Cellars. Located in a Greek revival mansion that overlooks Seneca Lake, the home was originally built in 1802, and there is little doubt that today it is inhabited by more than Rieslings. Strange happenings such as slamming doors, footsteps, and unexplained sounds have manifested on the property for years. To celebrate these otherworldly residents, Miles Wine Cellar now produces a "Ghost" wine, a chardonnay, and Cayuga blend. You'll enjoy a tasting and story-telling.
Watkins Glen is a bustling lake village at the bottom of Seneca Lake. It's known for the famous race track and the lake.  You'll enjoy a leisurely narrated cruise on the lake – passing by wineries, lake villages and stunning landscape.
At Glenora Wine Cellars, you'll enjoy award-winning Finger Lakes wines and regional cuisine for dinner.  It was the first winery on Seneca Lake in 1977 and a wonderful spot on the lake.
Day 3
After breakfast at your hotel, checkout and proceed to Syracuse.
The Landmark Theater in Syracuse – This historic theatre, built in 1928, had people talking of hauntings just years after it opened. After falling from a balcony to her death in 1930, Clarissa's spirit has been haunting The Landmark, often seen by workers and visitors. It's also a beautiful theater with a colorful history and an interesting tour!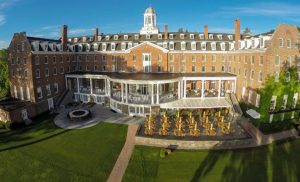 The Otesaga Resort hotel in Cooperstown is a magnificent, Federal-style structure with an imposing front portico supported by massive 30-foot columns, The Otesaga occupies 700 feet of lakefront on the southern shore of Lake Otsego, the famed "Glimmerglass" of James Fenimore Cooper's novels.
Employees are terrified by swinging doors and voices calling their names. Guests hear non-existent children running the halls and furniture being dragged across the floor upstairs—when they're actually ON the top floor! Shadows, orbs, moaning; this massive hotel has it all!
You'll enjoy a delicious lunch and then a creepy tour!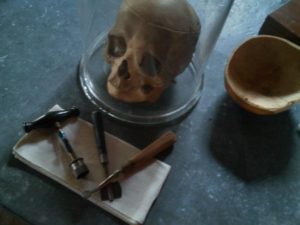 Dr. Best House and Medical Museum – Steeped in a village over 300 years old, the House is a time capsule from the earliest formation of medicine.  The property contains medical apparatus' that will turn your blood cold, tales of deaths and misfortune in this small, rural community with original obituaries, photos and death certificates.
Paranormal investigations have revealed significant activity with EVPs and recordings of piano playing and distant voices.
Soon you will be in the Hudson Valley and a perfect "Hello" is the Blue Pointe Restaurant in Newburgh.  This is a high-end seafood destination with bluestone fireplaces and a riverfront patio. Stunning river views.
The Hampton Inn Fishkill is your destination for the next two nights.  This delightful hotel is perfectly located for your touring.
Day 4
After breakfast at your hotel, meet your local guide for a full day of sightseeing!
Staatsburgh State Historic Site is the elegant country home of Ogden Mills and his wife Ruth Livingston Mills. Sitting atop a grassy hill overlooking the Hudson River and the Catskill Mountains, their house is a fine example of a great estate built by America's financial and industrial leaders during the Gilded Age (1876 – 1917).
Today you will take the Scandals tour – which is extremely entertaining!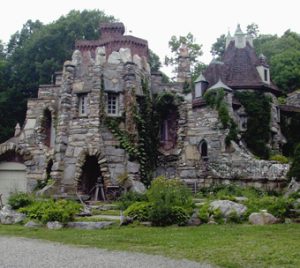 Wing's Castle is the brainchild of artists Toni Ann Wing and her late husband, Peter. It's been featured on Extreme Homes on HGTV and soon-to-be on the History Channel. A visit and tour there will leave you mesmerized by the antique memorabilia and collectibles; everything from military to primitive trinkets, each with their own story to tell.
The owners tell stories of unexplained events in and around the castle house—why Toni took an axe to a goat-headed artifact embedded in the castle wall; why trick-or-treaters never seem to venture past the jack-o-lantern at the driveway entrance … one visit inside and you'll know why.
Millbrook Vineyard and Winery was dubbed by the NY Times as the "Flagship winery of the Hudson Valley".  You'll enjoy a five-star wine experience with a wonderful tour and tasting as well as a delightful picnic lunch!
Sprout Creek Farm is a working farm, educational center, peaceful sanctuary and a place for intellectual inquiry.  You will stop here for a tour, a cheese tasting and shopping in the wonderful gift shop!
Miss Fanny's Victorian Party House is a three-story farmhouse, circa-1860-70, named after the last of the Van Wyck family who lived there. The current owners share the space with spirits who have made their presence known with doors opening and closing, voices, footsteps, and even apparitions. This is a lived-in home where the owner has come to terms with the spirits who live there.  You will leave a believer!
NOTE: ½ of the group will go to Sprout Creek Farm while the other half goes to Miss Fanny's Party House – and then they switch.
Dinner tonight is along the Hudson River at Ice House in Poughkeepsie.
Day 5
After breakfast at your hotel, depart for home!
---
Inclusions
Two night's hotel accommodations at the Hilton Garden inn, Auburn, NY
Two night's hotel accommodations at the Hampton inn, Fishkill, NY
Breakfast each day, 2 lunches, 4 dinners
All taxes, meal gratuities, guide gratuities and hotel luggage handling
1 driver's room
1 complimentary packages at double occupancy based on 30 paying guests
Day 1
Admission/tour of Iron Island Museum
Admission/tour of Rolling Hills Asylum
Admission to the Jell-O Museum
Dinner cruise on the Erie Canal
Day 2
Guide for a full day
Tour of William Phelps General Store and Palmyra Historical Museum
Miles Wine Cellars tasting and storytelling
Captain Bill's Seneca Lake cruise
Day 3
Admission/tour of Landmark Theater
Lunch and tour at Otesaga Resort
Dr. Best House and Medical Museum admission
Dinner at Blu Pointe Restaurant
Day 4
Admission/tour of Staatsburgh State Historic Site
Admission/tour of Wing's Castle
Tour, tasting, picnic lunch at Millbrook Winery
Tour and cheese tasting at Sprout Creek Farm
Admission/tour of Miss Fanny's Victorian Party House
Dinner at the Ice House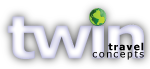 Customized Group Tours
Whatever your reason for traveling – Culture, Art, Gardens, Faith, or discovering new destinations – we create group tours that set each program apart from the ordinary.
Let our experience and passion work for you.
twintravelconcepts.com