With its gracious house, magnificent gardens, and panoramic views, Naumkeag is a quintessential country estate of the Gilded Age.
This architectural masterpiece is, at its heart, a family home. Joseph Choate, a leading 19th-century attorney, hired the architectural firm of McKim, Mead, & White to design the 44-room "cottage," Naumkeag, which would serve as a summer retreat for three generations of Choates.
With its views of Monument Mountain, its stunning collection of gardens created by Joseph Choates's daughter, Miss Mabel Choate, and Fletcher Steele over 30 years, its original artwork, and its shingle-style house, Naumkeag creates an unforgettable experience for visitors. Don't miss the self-guided audio tour of the Naumkeag gardens, including the Blue Steps, a series of deep blue fountain pools, flanked by four flights of stairs and a grove of white birches. Walk through the equally beautiful Afternoon Garden, Tree Peony Terrace, Rose Garden, Evergreen Garden, and Chinese Garden to encounter the playful, inventive spirit of Miss Choate and Mr. Steele.


Experience – PRIVATE horticulturist and curator tours.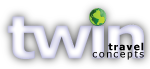 Customized Group Tours
Whatever your reason for traveling – Culture, Art, Gardens, Faith, or discovering new destinations – we create group tours that set each program apart from the ordinary.
Let our experience and passion work for you.
twintravelconcepts.com