New York City to Buffalo-Niagara Falls, Northern Route
Sample Itinerary
Day 1     New York City through the Hudson Valley to Cooperstown
Cooperstown – an adorable village on Lake Otsego nestled in the foothills of the Catskill Mountains
Otesaga Resort, on the shores of Lake Otsego – dine indoors or outdoors while enjoying the elegance and views.
Optional sites – Ommegang Brewery, National Baseball Hall of Fame and Glimmerglass Festival
---
Day 2 Cooperstown to Auburn to Canandaigua to Rochester
Fenimore Art Museum – housed in an elegant 1930s neo-Georgian mansion, the museum presents a perspective on the heritage and history of America through art
 Fly Creek Cider Mill – Historic, water-powered cider mill on the banks of Fly Creek pressing fresh, sweet cider for 157 years – a fun stop
Auburn, a lovely lakeside town steeped in American History
Willard Memorial Chapel – The Tiffany designed interior is the only complete, unaltered Tiffany chapel interior known to exist.
Canandaigua – breathtaking scenery, a magnificent lake, great wines and a wonderful place to relax
Sonnenberg Gardens – Nestled in the picturesque Finger Lakes region, Sonnenberg is one of the few remaining estates in the U.S. with a Queen Anne-style mansion and formal gardens. A beautiful afternoon!
Rochester –Big-city culture and small-city charm combine in Rochester, on the shores of Lake Ontario. The birthplace of amateur photography, today its historical treasures complement award-winning music, acting ensembles and a dense festival calendar covering nearly every weekend of the year.
Bamba Bistro islocated in a beautifully restored building in downtown Rochester – a perfect dinner.
---
Day 3     Rochester to Buffalo
George Eastman House is the International Museum of Photography and Motion Pictures.  This is the only historic home and garden in the world where one can see first-hand how an American inventor and entrepreneur lived.
AKWAABA Tour – a troupe of actors reenact life for slaves attempting freedom through the Underground Railroad of the 1800's, all while touring parts of Rochester. Rochester has a prominent place in the civil rights and women's rights movements.
Buffalo looms up in a cluster of Art Deco spires and glass-box skyscrapers – Manhattan-in-miniature on Lake Erie. It is home to wonderful art, stunning churches, great food and music, and Frank Lloyd Wright homes.
Darwin Martin House – The house is considered by leading scholars to be one of Frank Lloyd Wright's finest achievements. Located in the historic Parkside neighborhood of Buffalo, the multi-structure estate (1903-05) is a masterpiece of 20th century architecture
Anchor Bar – Dinner at Anchor Bar, the home of the original Buffalo Chicken Wings.  They can be served in a variety of options now, but we start you off with original!
---
Day 4     Buffalo – Niagara Falls – Buffalo
Niagara Falls – It all began 12,000 years ago when a huge trench was carved to create Niagara Falls, a spectacular natural wonder. Only from the NY side of the falls can you walk up close and truly feel the power of 60,000 cubic meters of water pouring over the falls every second.  It's thrilling!
Maid of the Mist is the famous boat ride that brings you as close as you can get to the bottom the falls. You will feel the spray (ponchos are provided) and experience something like no where else in the world.
 Cave of the Winds. Clad in a bright yellow poncho and wearing the special footwear provided, you follow a tour guide over a series of wooden walkways to the famous "Hurricane Deck". You are a mere 20 feet (6 meters) from the billowing torrents of Bridal Veil Falls.
Niagara Power Project Vista – An interactive museum dedicated to Niagara's Hydroelectric history with wonderful views of the Niagara Gorge.
Niagara Falls Observation Tower– Extending out dramatically over Niagara Gorge, enjoy the unobstructed views of the wild cascades of Niagara Falls, as well as the raging whitewater below.
 Hard Rock Café – a fun and lively restaurant close to the Falls. After a long day of touring, kick back and sing along with some great rock n' roll.  A wonderful preparation for the Falls illumination…
Niagara Falls, Illumination – As spectacular as its vistas are by day, Niagara Falls can appear even more dramatic after dark. Every night of the year colored spotlights illuminate Niagara's Horseshoe and American falls to create a spectacular light show of rich and ever-changing hues.
Optional sites – Helicopter, Whirlpool Jetboat, Seneca Niagara Casino, Artpark, Fatima Shrine

---
Day 5     Depart for the Airport or Canada
Net Cost Per Person:  $1,236/Single, $979/Double, $895/Triple, $853/Quad
4 night's hotel accommodations, 4 star hotels
All admissions and local guides
Luxury coach throughout
4 breakfasts, 4 dinners
One complimentary package at single occupancy based on 40 paid
All taxes, meal gratuities, guide & driver gratuities and hotel luggage handling
*** 3 Star hotels – 3 night version – $753/Single, $612/Double, $564/Triple, $540/Quad
Customized Group Tours

Whatever your reason for traveling – Culture, Art, Gardens, Faith, or discovering new destinations – we create group tours that set each program apart from the ordinary. Let our experience and passion work for you.
http://www.twintravelconcepts.com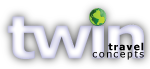 Customized Group Tours
Whatever your reason for traveling – Culture, Art, Gardens, Faith, or discovering new destinations – we create group tours that set each program apart from the ordinary.
Let our experience and passion work for you.
twintravelconcepts.com