Come From Away, Newfoundland
The Broadway phenomenon comes to life in Gander and Newfoundland. Visit with those decent quirky people who cared so well for our stranded citizens after 9/11. From colorful St. John's to UNESCO sites, whales, puffin and icebergs, this tour will leave you breathless.
ARE THERE DATES YOU NEED TO FILL?
Contact us for your customized group tour proposal.
917-575-6600 | nick@twintravelconcepts.com
Come From Away Tour Highlights
Meet with locals in Gander
Beyond 9/11 experience
UNESCO World Heritage sites
Whale watching
Commonwealth War Graves Commission Cemetery
Silent Witnesses Memorial
Dover Fault
Iceberg watching
Kittiwake Coast
Witless Bay tour
St. John's discovery
Cross of Sacrifice
North Atlantic Aviation Museum
Appleton Peace Park
Newfoundland Itinerary
Day 1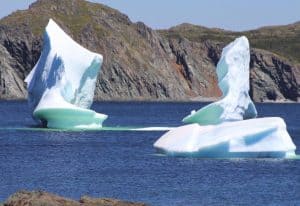 Welcome to Gander! Gander – where 6,700 passengers and crew were stranded on 9/11. Gander – now known worldwide for its hospitality. Gander – surrounded by stunning natural beauty.
Tonight, you'll enjoy a delightful dinner as you get acquainted with this stunning land.
Day 2
To understand the wonderful people of Newfoundland, you first need to appreciate the amazing raw landscape. Millions of years ago, as portions of the earth's crust shifted, continents collided in ancient Newfoundland.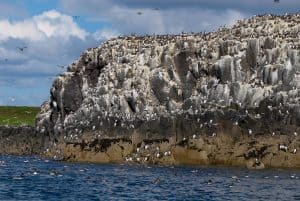 Drive up the Kittiwake Coast towards the coastal town of Musgrave Harbour. You will travel through a wilderness of tall trees, blue lakes and crystal-clear streams. The pristine landscape is undeniable. In between, you will find white sandy beaches that stretch on forever. This is a lovely day that will include small walks on trails overlooking spectacular vistas! Musgrave Harbour is an outstanding community that is known for its miles of sandy beach that line the Kittiwake Coast. It is also known for the kindness and generosity of the people living there and a wonderful lunch stop. Upon return to Gander, relax for a bit.
Tonight, you will enjoy a lovely meal and dinner will include a guest – one of the hosts on 9/11 who will share their story!
Day 3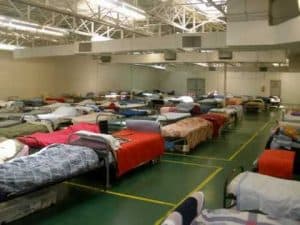 In the immediate aftermath of the September 11th attacks, our Canadian neighbors sprang into action to help clear American airspace of any other potentially dangerous flights. The action was known as Operation Yellow Ribbon, and in those uncertain first hours after the attacks, it was hugely helpful. The mission also made this tiny town of Gander world famous for its hospitality.
Today you will experience the immensely heart-warming reaction to a difficult situation. To say the locals bent over backwards for their surprise guests would be a massive understatement. They greeted their guests with bagged lunches, opened their schools and large building as shelters, and when they were full, opened their homes.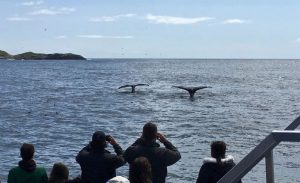 As you travel from museum to community center to schools and listen to the struggles and victories of that day, you will also meet some of these wonderful neighbors and hear their stories of the "plane people".
The Commonwealth War Graves Commission Cemetery, The Silent Witnesses Memorial, Gander Heritage Walking Trail, and The North Atlantic Aviation Museum will also be highlighted.
Dinner tonight is included.
Day 4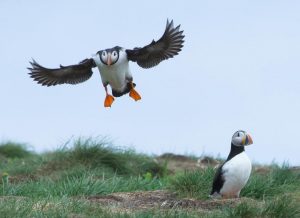 Travel today down to St. John's NL, with a fantastic stop.
At Witless Bay, enjoy a Witless Bay Ecological Reserve boat tour to search for puffins and other seabirds. Take in the breath-taking scenery and incredible marine wildlife with whales, icebergs, puffins, and a variety of bird species. It happens to be a wonderful spot along Iceberg Alley!
St. John's – A colorful destination at the eastern-most edge of North America! This quaint impressive city is walkable, adorable and a delight to discover. Your centrally-located hotel is close to many restaurants, cafes and shops.
Day 5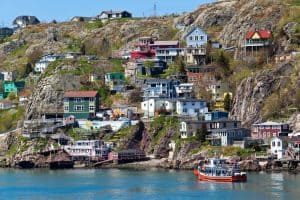 St. John's is an intriguing old seaport, North America's oldest city and Newfoundland's capital. It boasts a stunning location in the granite cliffs and slopes of the Avalon Peninsula. Enjoy a city tour today featuring the Victorian architecture of the downtown area, the busy modern waterfront, the Cathedral of St. John the Baptist, Confederation Building, and the panoramic view from Signal Hill.
A delicious farewell dinner!
Day 6
Departure from St. John's.
Inclusions
5 night's hotel, St John's and Gander
Breakfast daily, 5 dinners, 1 lunch
Fully escorted
All admissions, local guides
All taxes, meal, guide and driver gratuities
Hotel luggage handling
One comp. package at Double
From $1,440 Per Person Double
Options
Gros Morne National Park
Kyaking, Rafting
Lighthouse touring
Sea-bird watching boat tour
Backcountry hiking expedition
Nova Scotia, Cape Breton Island
Prince Edward Island
4, 5, 7 and 8-night options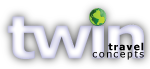 Customized Group Tours
Whatever your reason for traveling – Culture, Art, Gardens, Faith, or discovering new destinations – we create group tours that set each program apart from the ordinary.
Let our experience and passion work for you.
twintravelconcepts.com