Travel Alliance Partners Welcomes New Partner Twin Travel Concepts
FOR IMMEDIATE RELEASE:
Travel Alliance Partners Welcomes
New Partner Twin Travel Concepts
ANCHORAGE, Alaska (September 19, 2013) – The Travel Alliance Partners is proud to welcome Twin Travel Concepts as the newest TAP Partner effective August 2013. With more than 30 years' experience in tour and receptive services, Twin Travel Concepts uses a customer-centric approach by developing packaged-travel products to meet consumers' ever-changing needs. Each program is custom designed to their tastes and budget. "Adaptability and flexibility are the keys to success in this volatile market." says Nicholas Calderazzo, President of Twin Travel Concepts.  "Only through listening carefully to our clients can we create products that will sell. By joining this unique network of partners, Twin Travel Concepts has an even broader selection of products to help meet our clients' needs".
In addition to his industry experience Nick's passion is also reflected in his service as a Board Member and Secretary / Treasurer for the National Tour Association, his six years as the chair of the RSA Education Committee and his appointment to the Travel and Tourism Advisory Board for a 1-1/2 year term by the US Secretary of Commerce.
The Travel Alliance Partners are a distinguished network of travel professionals with a tremendous amount of respect for their Partners, Preferred Travel Providers and offer an incredible selection of global travel products to sellers of travel.  TAP looks forward to Twin Travel Concepts participation and unique industry experience they bring to the Travel Alliance Partners Corporation.
For more information on TAP and our programs, please email marketing@travelalliancepartners.com or visit our corporate site www.TravelAlliancePartners.com.
-end-
Travel Alliance Partners, LLC
Travel Alliance Partners, LLC or "TAP" is a privately-held organization owned by the 32 North America-based tour operators that also comprise the organization's ownership. Each owner operator is an expert in the region in which they are established and offer travelers the most diverse knowledge base of travel destinations possible. As TAP Partners, tour operators collectively offer more than 250 worldwide tours with Guaranteed Departures, collaborate on joint marketing opportunities, and share best business practices in order to move market share. The organization was founded in 1996 by Serge Talbot, President of SanJose, Calif.-based Talbot Tours, and has operated as a corporation since 2002.
Travel Alliance Partners, LLC
Box 221666 | Anchorage, AK 99522
Phone: 907.243.7125 | Fax: 520.399.6499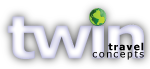 Customized Group Tours
Whatever your reason for traveling – Culture, Art, Gardens, Faith, or discovering new destinations – we create group tours that set each program apart from the ordinary.
Let our experience and passion work for you.
twintravelconcepts.com