Vermont & New Hampshire – Local Experiences and June Blooms, with rates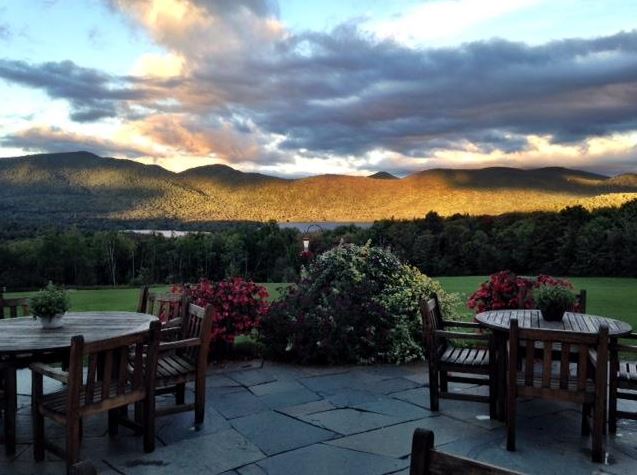 The dynamic landscape of rugged mountains and pastoral valleys glimmer in the lingering sun of June in Vermont and New Hampshire.  The long daylight hours up north enhance this tour of local experiences and June blooms.
---
ITINERARY
Day 1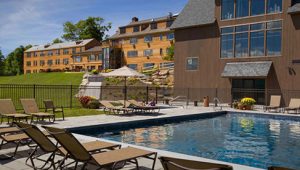 Arrive at your Vermont inn, the Mountaintop Inn. Set high atop a central Vermont mountain, on 350 private acres of woods & meadow, with sweeping views of the surrounding Green Mountains and a pristine 740-acre lake – your home for the next three nights is one of Vermont's most unique and spectacular destinations.
Enjoy a welcome wine and cheese reception followed by a relaxing dinner.
Day 2 
Breakfast at your hotel.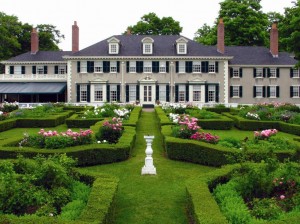 Hildene, The Lincoln Family Home. A visit during late May to early June gives you a magnificent opportunity to combine the Celebration of the Peonies with a behind-the-scenes "Curators Corner" archival experience. The Lincoln women had a passion for peonies. They are on resplendent display during the tour through the French Parterre-style formal garden while you learn about the 20 fragrant varieties of peonies.
EXCLUSIVE Curator's Tour. Not only will you enjoy the regular mansion visit, but with Custom Tours and Twin Travel Concepts, your folks will be privileged to experience the Curator's Tour, not available to the general public. Here, with the curator, in small groups, you will visit the Archives Room, where memorabilia and artifacts are stored from the Ford Theater and the night of President Lincoln's assassination. Lincoln's son collected and made these rare and valuable artifacts available to special visitors at Hildene.
Lunch on own in Manchester. Nestled in the heart of the Green Mountains, this former iron-mining town today is the quintessential Vermont getaway, complete with a white steeple church, antique shops and cozy country inns.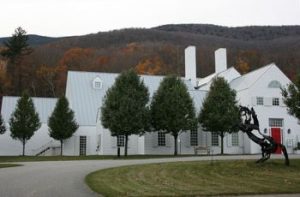 Southern Vermont's Art Center. Situated amid over one-hundred acres of pristine forest in the heart of the Green Mountains, SVAC offers a first class experience in a traditional New England setting. With a rotating calendar of member and guest exhibitions, the largest sculpture park in Vermont, this center truly has something for everyone.
Vermont Country Store. You've flipped through the pages of their catalogue, but a visit to the actual store, famed for being "the purveyor of the practical but hard to find," is an experience you will long remember! You will find such brands from the past as Tangee Lipstick, Buster Brown Socks, and Tinker toys. A visit here is truly a step down memory lane!
Dinner tonight is at a French Chef-Owned Bistro with a cooking demo in their state-of-art cooking classroom. Recipe cards to take home.
Day 3

Breakfast at your hotel.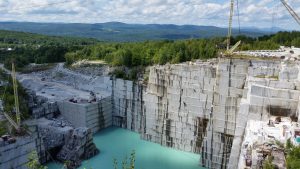 Rock of Ages Granite Quarry. This is the largest deep-hole dimension granite quarry in the world! First, you will head up to their largest, most spectacular quarry for a narrated tour (the quarry is pretty amazing, but so are the gorgeous mountain views!) as your Rock of Ages guide shares their passion for all things granite: its history, the area's cultural heritage, artistry, geology, and more.
Meet the Masters. Then head back to ROA's state-of-the-art factory where your travelers will enjoy Meet the Masters, a behind-the-scenes "meet & greet" with one of ROA's gifted granite sculptors. The group will watch a demo of clay sculpting and experience an interesting and engaging overview of the process from clay, to plaster, to granite statue.
Wine & Cheese. You'll end in the fabulous brand-new Visitors Center and gift shop, where, in a private setting, your group will enjoy a local wine and cheese pairing, not available to any other tour group.
Montpelier, the Capital for lunch and shopping on own. Visit the smallest state capitol in the nation with no fast food chains within its city limits.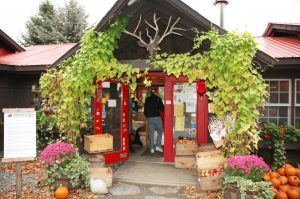 Morse Farm. Have you ever heard of sugar on snow? It's the Vermont term for fresh maple syrup, heated until it turns into a taffy-like confection, then drizzled over pure white snow. It is heavenly, and Morse Farm, a seventh-generation maple syrup producer, still makes it the old-fashioned way, serving their sugar on snow with sour pickles, which help to lighten its deep maple sweetness. Some folks eat the pickles, some just eat the maple "taffy", but everyone will enjoy their delicious visit to Morse Farm. "Burr" Morse will entertain your travelers with tales of his family's maple sugarin' adventures, multimedia displays in their real Woodshed Theater, whimsical woodcarvings made by Burr himself, and a wonderful maple "country store" gift shop that truly has something for everyone. It takes forty gallons of maple sap to produce just ONE gallon of pure Vermont maple syrup, and your guests will thoroughly enjoy learning this and many other tasty facts about maple sugarin' at Morse Farm.
Farmers Market, a way of life here in the summer where local farmers and vendors showcase their crops, artwork, and culinary specialties. Each market has a different assortment of vendors specializing in produce, food, crafts, and more! We know you will enjoy your visit to the one we have chosen for you.
Local Farm for Culinary Farm to Table Dinner. Visit a family owned and operated farm, and enjoy an upscale dining experience, with true farm-to-table cuisine. Everything you eat tonight for dinner will have been raised or grown on the farm.
Return to Inn.
Day 4
Breakfast at your hotel.
Depart VT for New Hampshire, a stunning drive from the Green Mountains to the White Mountains.
Meredith, NH. Meredith is a quaint lakeside village – an ideal setting for strolling, shopping and lunch. Lunch is on your own.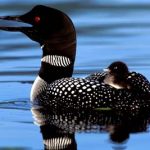 Squam Lake Cruise. Soon after is Squam Lake- the perfect setting for On Golden Pond Cruise. Remember the movie with Henry Fonda and Katherine Hepburn? You'll enjoy a cruise this afternoon. On this narrated cruise, your captain will remind you of various scenes and tell you some local stories about actual situations that took place during filming.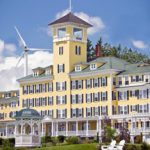 The Mountain View Grand Resort is your hotel for the next 2 nights. What truly sets this resort apart is their surroundings and historic design, which combine panoramic New Hampshire White Mountain vistas and elegantly appointed guest rooms and suites.
Dinner is included here this evening, because you won't want to leave!
Day 5
Breakfast at your hotel this morning.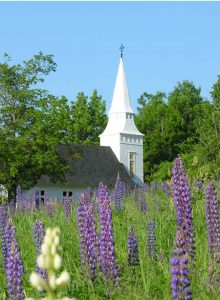 June in Sugar Hill, NH is a special time that few get to experience. Lupines are a stunning colorful wildflower and they abound here. Your group will go home wishing they hadn't waited so long to discover this special region.
Included today are visits to:
1. A building whose owner's ancestors were the first settlers of the village of Sugar Hill and built this stalwart barn over 200 years ago as a vital part of their pioneer life. What's inside is sure to astound you.
2. A country store like no other! Their mail order business reaches all across the USA, Canada, and other countries and orders as far away as Saudi Arabia have been placed.
3. Frost Place. The Frost Place was founded in 1976 and is the farmhouse where Robert Frost and his family lived full-time from 1915 to 1920 and spent nineteen summers. Unlike typical modern museums, you won't find fancy multi-media displays or cafés here, but if you come seeking a glimpse and a sense of the kind of place where a young poet could concentrate, and where his four children could range through the woods and orchards and discover the world, The Frost Place offers you a realistic glimpse into this forgotten world.
Lunch on own in this quaint New Hampshire Village.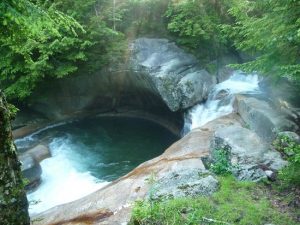 Franconia Notch State Park is one of the prettiest state parks in the nation. Visit the Flume Gorge Visitor's Center for a short film depicting the evolution of this region. Travel up the mountain in an enclosed aerial lift for spectacular views, and special wine and cheese tasting at the top.
The Café Lafayette Dinner Train is recognized as one of the nation's premier dinner trains, enjoy a unique dining experience far beyond your expectations. The magnificent scenery is matched only by the wonderful fare.
Return to your resort.
Day 6
Breakfast and depart for more touring or home.
---
PRICING
Price Per Person: Single: $1,507.00 /  Double: $1,120.00
Inclusions
5 night's lodging
10 memorable meals (5 full American Breakfasts and 5 regional upscale dinners)
3 wine and cheese receptions
All touring and admissions as listed
Baggage
Taxes and gratuities (including customary guide gratuities)
Local guides for VT and NH
Complimentary escort package at double occupancy with 24 paying passengers
Customized Group Tours

Whatever your reason for traveling – Culture, Art, Gardens, Faith, or discovering new destinations – we create group tours that set each program apart from the ordinary. Let our experience and passion work for you.
http://www.twintravelconcepts.com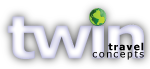 Customized Group Tours
Whatever your reason for traveling – Culture, Art, Gardens, Faith, or discovering new destinations – we create group tours that set each program apart from the ordinary.
Let our experience and passion work for you.
twintravelconcepts.com