Whirlpool Jet Boat, Niagara Falls US
The Niagara River collects all the water from the Great Lakes which amounts to about 20% of the world's fresh water.  Over the past 12,000 years, the turbulent currents of the immensely powerful Niagara Falls have carved out a 7-mile (11km) gorge on the lower Niagara, which makes for a wild and fun ride.

Their boats use a triple turbo diesel water jet system for both propulsion and steering, a design that creates incredible reliability and safety in the turbulent whitewater rapids.  This is why they have been able to create and sustain an exemplary safety record.

EXPERIENCE – Groups have the option for wet or dry and covered rides – both are exciting! Great pairing with Cave of the Winds, Niagara Falls Observation Tower, Niagara Falls Illumination and all things Niagara.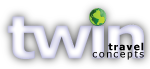 Customized Group Tours
Whatever your reason for traveling – Culture, Art, Gardens, Faith, or discovering new destinations – we create group tours that set each program apart from the ordinary.
Let our experience and passion work for you.
twintravelconcepts.com